Pikler Triangle Alternatives - The Climbing Cube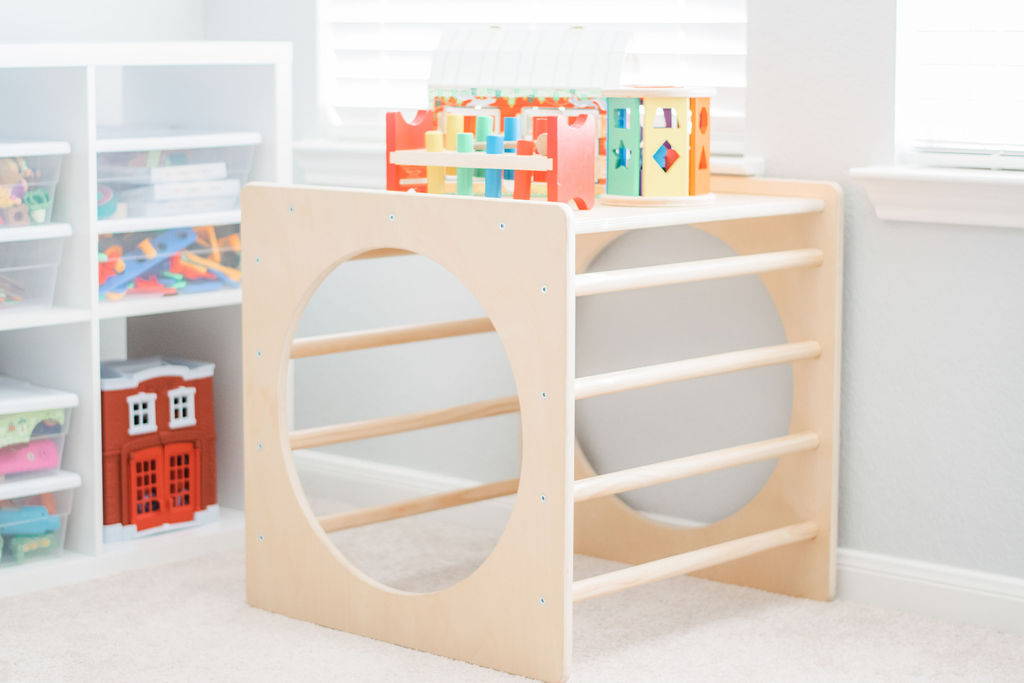 The Pikler Triangle has become a popular "must-have' with Toddlers and Parents over the last few years. And rightly so as the climber is am amazing tool to develop gross motor skills while also entertaining them!
Lets Face it….Children love to climb and this incredible toy is a safe alternative to climbing on tall couches, chairs, or anything eles you might have in your house.
But the Triangle climber is just one of the many options you can use to build your own indoor playground! Build it out with Slide Attachments, Rockwalls, or the Climbing Cube!
Read on as we explain what a Pikler Triangle is and why the Climbing Cube is a great addition or alternative!
What is a Pikler Triangle?
A Pikler Triangle is a sturdy (A-Frame) structure designed to encourage your child to stand up, climb, and develop critical motor skills independently.
The Pikler Triangle is often closely connected with Montessori-type equipment, however, the name comes from a Hungarian pediatrician who discovered that babies and toddlers could develop their motor skills autonomously without parental guidance. During her research, the doctor observed that the more a child was left to play independently, the more careful they would become as they would learn to know their boundaries.
Dr. Pikler's Key Concepts:
Independence
Free Movement
Natural Development
According to Dr. Pikler, infants and children learn at their own pace. They test, adapt, adjust, and enjoy learning new skills and capabilities on their own.
By allowing your little one to face challenges on their own, you'll also help them build the confidence to tackle and overcome them.
The Rise Of The Pikler Triangle
Why Is The Pikler Triangle So Popular?
There are two ways to answer this question.
There is the Scientific Approach and all the educational and developmental benefits that we touched on above…….
And then there is how the world changed with lockdown associated with the Covid-19 Pandemic.
Its quite simple.
The science and the proof of the benefits of movement have long been shown. But what happened in 2020 was children were stuck at home, no longer able to go to the parks and playgrounds, no longer able to go to schools and daycares, no longer given the opportunity to move due to lock down and social distancing.
Well, with the Pikler triangle and its alternatives, you could have your own indoor playground.
The "indoor" aspect is also very important as long winters and hot summers have long limited a child's opportunity to climb at outdoor playgrounds and climbing structures.
But now, The indoor Wooden climbers have provided a alternative to outdoor activities which might be hindered by rain, snow, or extreme temperatures.
We at Tottlr have seen significant increase in demand since the onset of the pandemic for these exact reasons. But just like when you go to your local park, there's not just one option to climb, but multiple ways to interact with the play structure. So we have created multiple attachments, addons, and alternatives to provide options.
The Tottlr Climbing Cube Is the Pikler Cube style of the Pikler Triangle.
While we designed Our Tottlr Triangle to be foldable so it could be removed from the play area and stored, the Cube is designed to seamlessly blend into the play area or bedroom as furniture or activity center.
The Tottlr Cube is essentially kids furniture that is designed to be climbed on! Pretty Neat!
What's more, this versatile toy can also be used to build a fort, as a climber, as a activity center or children's coloring table, and you can build it out by attaching a slide between the dowels, or even as part of an obstacle course. The possibilities are endless when it comes to the different ways your kid can use the Pikler Cube.
This functional tool will keep your little ones busy and happy for hours while you can enjoy some quality time watching them play and witness their incredible progress.
We hope this article sheds some light on the benefits Tottlr's Climbing Cube can provide for your toddler. Have you ever used one before? We'd love to read about your experience in the comment section below.